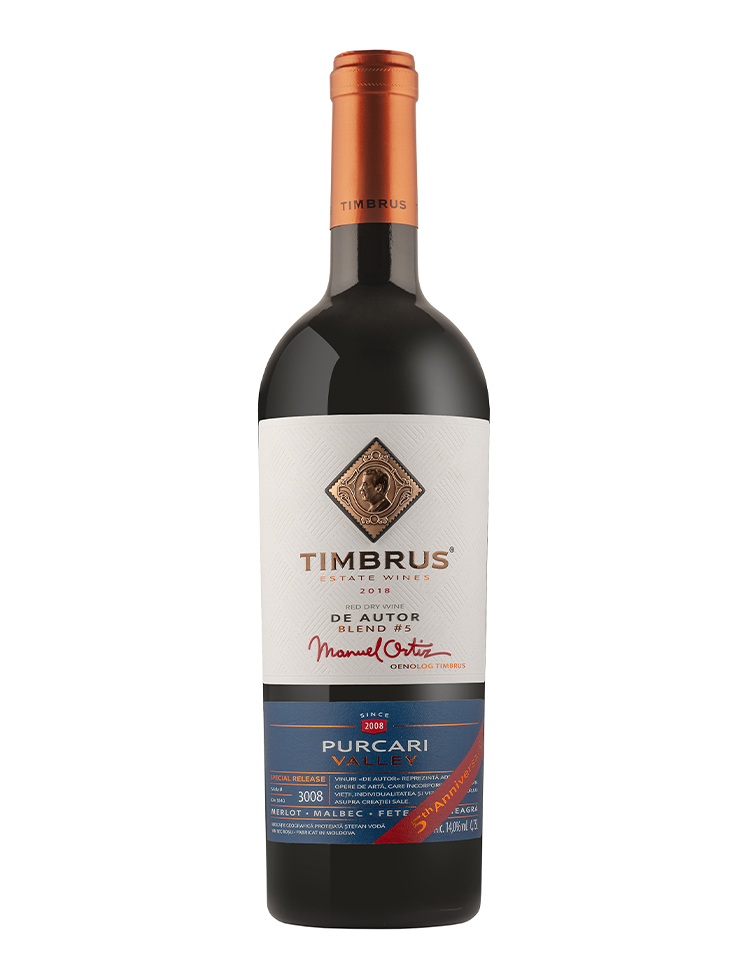 De Autor Blend #5
Timbrus De Autor de Purcari Blend #5 / 2018
Merlot / Malbec / Fetească Neagră
Dry red wine
Protected geographical indication Stefan-Voda.
«De Autor» wines are the original works of wine art, which embody the life philosophy, individuality and author's vision of its creators.
Timbrus de Autor Blend #5 2018 is a unique blend, produced in limited edition. This wine is a personal message of the winemaker to the true lovers of premium wines. Each year we create a new authors assemblage and recommend storing it at wine collections, because it is not only a beautiful story, but also a worth item for true collectors.
Terroir – Purcari, Republica Moldova.
Grapes – Merlot / Malbec / Feteasca Neagra. Manually harvested.
Ageing – not less than 12 months in oak barrels and 12 months in bottle.
Color – Intensive, purple red.
Aroma – Rich, expressive, with notes of prunes, cherries, red ripe berries and cocoa.
Taste – Soft, well balanced. With silky and velvety tannins, enriched with berry flavor and subtle hints of spices and chocolate.
Aftertaste – Long-lasting, elegant with hints of black pepper and milk chocolate.
Serving +14°С…+16°С. Decant for at least 30 minutes.
Pairing – Aged cheeses, game, veal, lamb, grilled pork ribs. Flavors of food and wine will merge into a stunning symphony of taste.